Working at home is quite a big adjustment if you started working office-based since you-can't-recall-when. It's challenging especially if you are used to JUST REST when you are home.
Some people who are working at home lose their drive to get up and do something related to work and it's normal, no need to worry. We have shared some tips to boost your productivity at home before. If you need guidance, click here.
If you have read that and you think you're ready to get up and work, let us now proceed to applications and tools that can keep you productive and at the same time help you with work-life balance.
There are more than 20 best tools, but we are going to give you at least 10 tools that we think is brilliant and on point.
1. Proof Hub
ProofHub is a project planning software that has a seamless user experience that can alert and inform everyone in your team about a project's status.
Users find ProofHub easy-to-understand even if you have no knowledge of any project planning software. From calendar to appointing task to filing, organizing and updating documents, ProofHub got everything you need. You won't even have a hard time creating templates for documentation and presentation because they have a pre-made template already. TIME SAVER!
2. Gantt Pro
Are you familiar with Gantt Chart? It is a type of bar chart that shows a task schedule and a person's productivity status.
Gantt Pro, on the other hand, is an online project management tool that is based on Gantt charts, where each team member's tasks that are performed are listed on the chart, giving a full transparency of each person's productivity status. Yes, it's a bit of a way for employers to micro-manage moves, but online.
It's a good tool for employers who outsource workers from different areas of the globe.
With Gantt Pro, a project's process and procedure is visible to anyone in the team that should have knowledge about it.
3. Airtable
If you are an employer or manager who wants to make working time somehow fun, you might want to try this tool.
Airtable is a colorful and creative tool that has an app-like functionality. It has a feature where you can mix and match a pleasing perfect workflow for your team. It can be used as your work spreadsheet, database and a project organizer.
It's easy to use and it shows a perfect wide view of each persons tasks.
4. Mixmax
If you are looking for good email marketing tool, one of the best is Mixmax. It's an easy tool for recruiting, scheduling a meeting, doing surveys and tracking emails.
You can automate email marketing through email schedules.
Mixmax can help you engage easily with customers, increase your sales and save time. This tool can also help you reach out to potential consumers.
You can use Mixmax to schedule meetings, send announcements and updates from heads to the regular employees.
5. Slack
One of the most used application in BPO companies and most tech-related company is Slack.
Slack is an application where you can create channels for each group, team, topic and/or projects with chosen colleagues.
It's a communication application like that is used to have a more organized conversations with teams. It's a faster, better and more focused communication tool than e-mail.
6. Asana
Like Slack, Asana is a well-known and one of the most used work management platform. It is precise and easy to use.
A member can create a timeline for any project that's appointed to them and in that way, you will be informed at the moment about the project progress percentage.
In Asana, you can monitor the task status in real time.
7. Calendar
Calendar is the top scheduling software that allows people to choose and book a meeting time directly to your calendar. You will be notified should there be a prior agenda that might end up in a conflict schedule.
This software also automatically transcribes every meetings you had. Isn't that nice? You won't have to worry leaving out important details from each meeting.
It may sound complicated, but it's not. It's an easy multi-person scheduling and with just one-click, your meeting is set and confirmed.
8. Fleep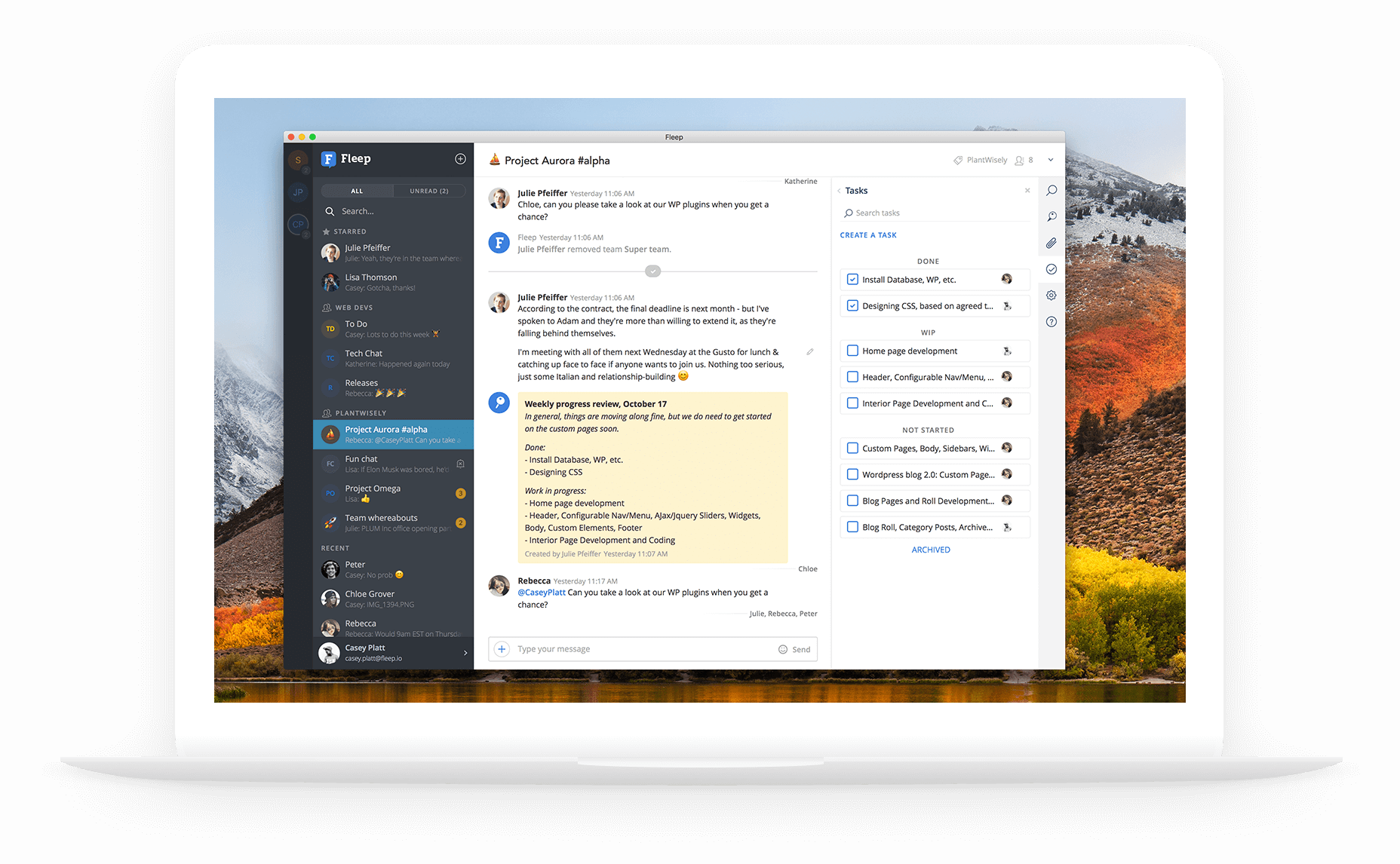 A quick way to communicate and discuss a project is not thru e-mail but thru Fleep, a team management application that you can use directly on the web browser or on your gadgets.
You can have a direct access on the files your teammate has uploaded. Yes, you can also download it for future reference.
You can easily discuss a topic here just like Skype, only in this one, you can create an easy-to-follow notification feeds in your conversations.
9. Trello
Trello is also a famous project management tool. It enables anyone to organize and prioritize projects in a non-boring way.
Here you can create a team playbook where you organize, prioritize and categorize a project. Not only that, you can customize a game plan for the team per project. Such a helpful tool.
10. Time Doctor
Time Doctor is on of the top time tracking software. It is used mostly by agencies, freelancers and outsource employers.
It shows you and your boss how productive you are. Based on image above it's a very powerful and useful tool. It's basically a must-have.
---
Now that you've read 10 of our top suggested work management apps and tools, do you think you're going to try or download one (or more) to help you stay productive and focused? We hope so. Or else we've failed to motivated you and get your drive back on. Just kidding!
But seriously though, try one and stay inspired. Have a fun productive work like!